See the world from your infinity pool. Imagine sitting at the top of a waterfall that blends into the landscape, affording gorgeous views of the landscape below. You can listen to the trickle of your own private waterfall as you lounge around your custom pool.
What is an infinity pool? It's the height of luxury in your own backyard. It makes you feel as though you could glide right over the edge and soar over the view beyond.
Defining an Infinity Pool
An infinity pool offers more than an attractive water feature. It includes the tranquil sound of running water to soothe the stress of daily life.
You may hear infinity pools called vanishing edge or negative edge pools. They are all the same things. Modernist architect John Lautner started building pools with a vanishing edge in the 1950s. The cantilevered pool at the Silvertop home commissioned by industrialist Kenneth Reiner is a famous early design. The pool appeared to pour directly into Silver Lake below.
An infinity pool is designed for the water to flow outward to the edge of a pool at deck level and overflow into a slot at the edge or a basin situated lower than the pool deck. As you look out over the overflowing edge, the pool seems to meld with views of water or landscape.
You don't need to install an edge along the entire side of the pool; you can do a partial wall or a corner for more visual interest.
The most famous infinity pool in the world is the cantilevered rooftop of the Marina Bay Sands Hotel in Singapore. Visitors can lay out in the sun and enjoy a view of the city unbroken by pool or deck architecture.



How Does an Infinity Pool Work?
Have you ever watched a waterfall? An infinity pool is an artificial waterfall deliberately constructed as part of your pool. The water flows over an edge and disappears from view into a lower reservoir. One section of the pool's edge is lower than the rest, and it acts as a dam that overflows into a lower catch basin. The water is then pumped back to the main pool to recirculate and fall over the edge again.
The edge is built without a visible cap like the other sides of the pool. There is nothing at deck level to spoil the view. It looks like you could swim right off, but infinity pools are eminently safe. The disappearing track is just an optical illusion. If you swim up to the waterfall, you reach a wall.
The Best Sites for an Infinity Pool
The most gorgeous views are available when the image of the pool waters can merge with another body of water such as a lake or the ocean. Placing the edge so you see only the sky provides another breathtaking view when you have a yard on a hillside.
If neither of those is an option, you can still have a relaxing spot that overlooks your landscaping or some beautiful view of your yard. The pool can mirror the best parts of your yard and the surrounding property.
Cost Considerations
Because of their design, infinity pools require complex engineering and construction you don't have in a traditional pool. The recirculation systems and catchment solution add a bit more work. Because you don't want pool water flowing in the wrong direction (away from the infinity edge), you need a vacuum basin, and a special filtration system to remove debris such as leaves and bugs from the pool edge.
Vanishing edge pools typically cost around 30% more than a traditionally engineered in-ground pool for a single vanishing edge. If you decide you want water to overflow over more than a single edge, the cost increases.
According to Home Advisor, around eight months ago, the average cost of an infinity pool was approximately $79,000, ranging from $55,000 to $130,000. The base cost per square foot is around $80. Prices vary according to region, availability and type of materials needed, and labor costs.
As far as maintenance goes, infinity pool maintenance is a bit more complex than a traditional pool. You have an additional area to clean (the catchment basin). You need to monitor the filtration and water pumps because there is no recirculation if one stops. Also, while the water flows over the vanishing edge to a lower basin, it evaporates more quickly than fully contained water.
If you add other water features along with the vanishing edge, that will also increase the price. So, if you want a grotto, sunbathing platform, or any other feature, it will cost more.
Remember that a pool is a lifetime investment that should last for decades. You can enjoy a fantastic view, rippling water, and soothing sounds all year for each year you spend in your home. Wouldn't that be worth the price?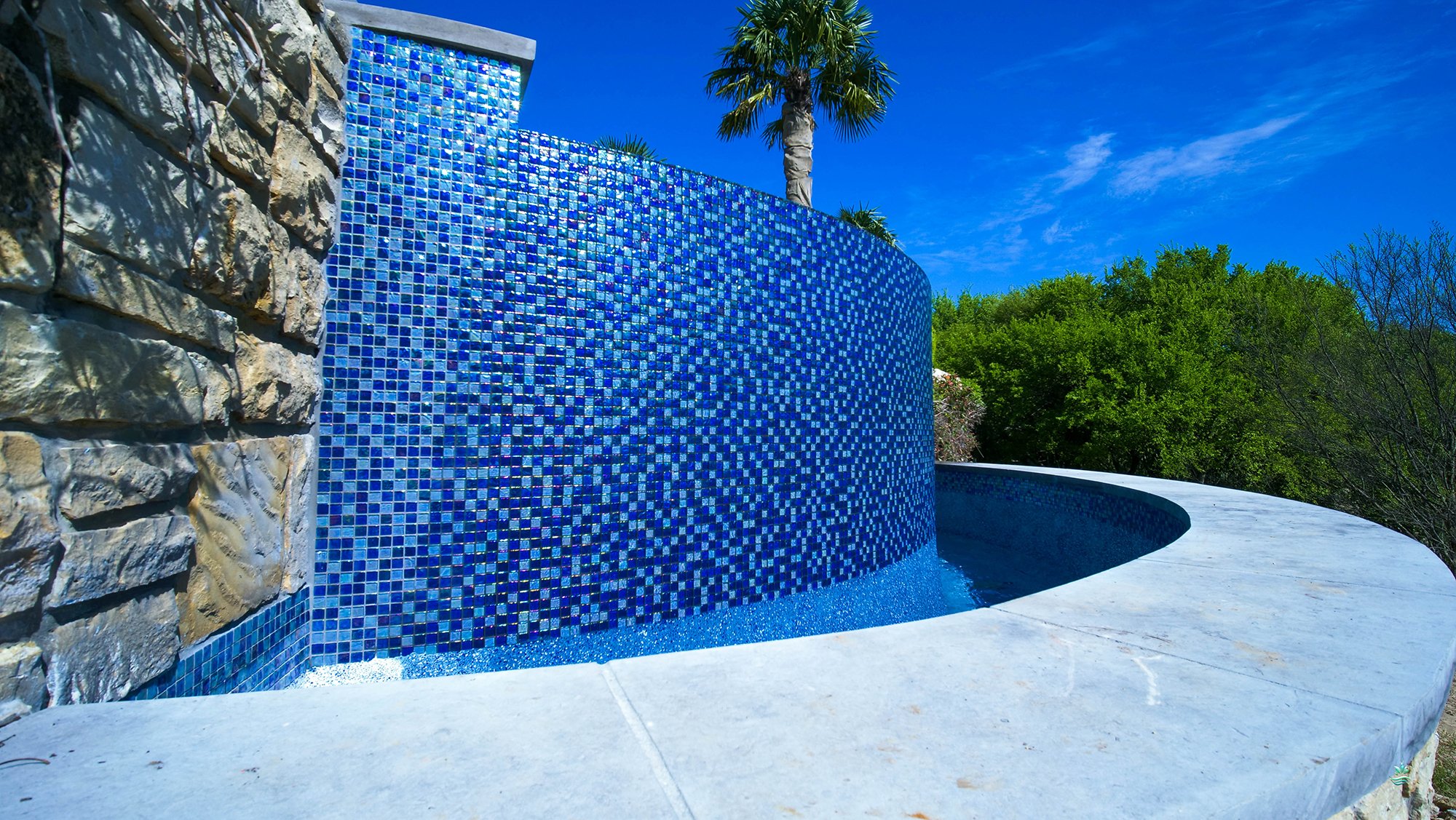 Selecting the Best Pool Company to Construct Your Custom Infinity Pool
Since building an infinity pool requires additional engineering knowledge and experience, find custom pool builders who have installed infinity pools recently and ask to see the projects.
Ask friends and family for referrals to learn who built their pools and how they felt about working with them. Ask for photos of past installations, especially those with a design similar to the one you desire. Interview previous customers, if possible, and look at residential social media platforms in your community for recommendations and reviews.
Perform as much research as you can to learn about infinity pools, how they are maintained, and what you can expect as an owner. Try to create a design or two that the builder can use to illustrate what you're looking for. You can save time by having the best idea of what you want before you begin speaking with a pool builder.
Wrapping Up
An infinity pool provides visual beauty and soothing sounds that enhance any property. If you own property on a hill or overlooking a lake, an infinity pool can make your friends and family gasp with awe when they first see it.
Imagine sitting in your new pool and gazing out over that vanishing edge. You can already feel the stress melt away as you relax amid the sights and sounds of rippling water.
If you are interested in building an infinity pool, contact the Selah Group. We can answer all your questions and show you how an infinity pool can look in your backyard.